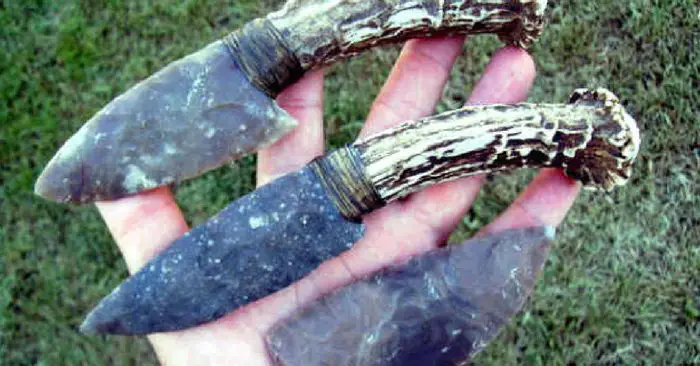 Make sure you Like SHTFPreparedness on Facebook or Follow us on Pinterest to be updated every time we post great articles o
n Prepping, Homesteading, Survival, DIY and other topics!
Knowing how to make a sharp edge or a knife in a survival situation is paramount when studying wilderness survival.
I think I have just found the best website on the internet  that explains and shows you how to make a stone knife. The information on the site is easy to understand and even a child could take what is there and make a knife.
This knowledge can make survival a lot easier, it is not a hard skill to master, granted in some survival locations you will not have rocks to make these stone blades but for majority of us they are abundant and especially near to rivers and creeks.
If you find yourself in a survival situation without a sharp blade you will find surviving hard, I say that because with a knife you can hunt, make pointed sticks for protection, make kindling by scraping a stick to get dryer wood. I would always recommend having at least one blade with you at all times just in case, but like in life, sometimes that isn't always possible.
If you look at the top of the page you will see a red banner, that credit card knife is currently FREE. Take the opportunity to get one and keep it in your wallet as a backup. Or click here to get one.
The experience can be tedious, but the reward is a profound feeling of satisfaction and an incredibly enhanced ability to use a modern knife. See the video and the article below… I hope you enjoy it!
How to Make Stone Blades for Wilderness Survival